Newsroom GSI
You've heard the expression that "quality is job one" when it comes to making cars. That same thinking applies to raising alligators and delivering flawless skins to market. "Farm-raised gators is all about the quality," said Craig Sagrera, of Vermilion Gator Farm, a family-run business. Given the nature of alligators, however, ensuring quality is no easy task.
The Asian tiger shrimp, an exotic, large species of monster shrimp, is being found once again in the Gulf of Mexico and posing a potential threat to the $700 million Gulf shrimping industry.
With Peche, Link's new seafood restaurant with chef/partners Stephen Stryjewski and Ryan Prewitt, he has established a direct connection to fisherman with an extra bit of paperwork: a $250 wholesale seafood business license that allows his restaurants to buy directly from commercial fishermen.
It's wild alligator harvest season in many of the Gulf States. Gulf Seafood News will publish a four part in-depth look at the industry. Television shows such as "Swamp People" have raised the awareness of the benefits of alligator meat to an ever-widening audience. For the industry this has been both a blessing and a curse – prices are at an all time high, but meat is often in short supply.
Despite Executive Director Ewell Smith resigning the Louisiana Seafood Promotion and Marketing Board (LSPMB) and moving its offices, the board's chairman John Folse is positive about the future.
Most of the Louisiana oysters are farmed on reefs. This includes oyster farms that are dependent on a source of wild seed oysters, usually transplanted from public oyster grounds that historically have cyclical production.
Louisiana Sea Grant has recently completed a video demonstrating how to build an oyster nursery silo from a 55-gallon plastic drum.
In a letter to Louisiana Seafood Promotion and Marketing Board chairman Chef John Folse, Ewell Smith has announced his resignation as the executive director of the state's seafood organization after serving in that capacity for more than 13 years.
From Manchac to the Rigolets, the rows and rows of neatly stacked crab traps sitting unused on docks and piers tell a story that local crabbers hope will eventually have a happy ending. But for the time being, many are bracing and preparing for the worst. Among them is Manchac-based crabber Laramie Hill.
To meet an ever-increasing demand for fresh, quality gumbo-sized shrimp, the Port of Delcambre and Delcambre Direct Seafood program have introduced the first product in the state carrying the "Certified Authentic Louisiana Wild Seafood" – the Vermilion Bay Sweet White Shrimp gumbo pack.
Trudy Luke, the crab queen of Dulac, is the energetic owner of Luke's Seafood. She's known for her outspoken style, constant motion and love for the Louisiana seafood community.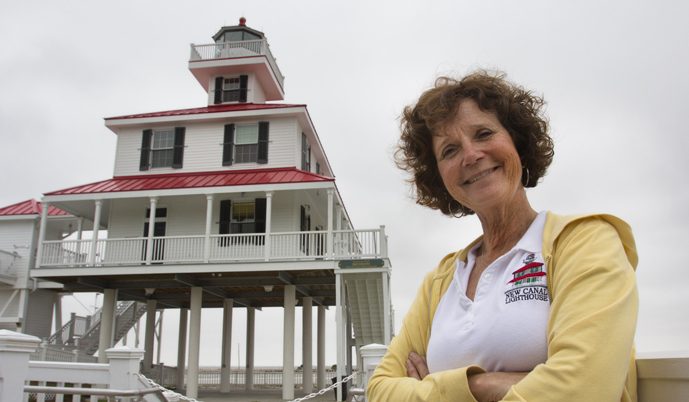 Like the proverbial Phoenix rising from the ashes, the New Canal Lighthouse has risen from the destruction of hurricanes Katrina and Rita to once again serve as a beacon of hope and perseverance for generations to come.
A little over two years ago Jim Gossen gave a talk to a group of Louisiana oystermen gathered on Grand Isle. He had filled boxes with the prettiest oysters from both the east and west coast. Beausoleil oysters in one little box, and Island Creeks in another. Gossen didn't realize it at the time, but this was his entrance into the world of oyster farming – the Grand Isle Caminada Bay Oyster Farm project.
Some downbeat numbers add up to a delicious break for Louisiana's wild-caught catfish. U.S. farm-raised catfish sales in 2012 were down 20 percent from 2011 . In Louisiana, sales by catfish farmers were down 56 percent in 2011
Given everything that's been reported about Louisiana Seafood, what makes for good media relations? Without hesitation, for the past five years it has been the honesty and credibility of the board's manger of communications, Ashley Roth.